PRP – Does It Work?
Over the past decade several clinical studies have examined the use of platelet-rich plasma (PRP) in the treatment of androgenic hair loss (male or female-pattern hair loss). The results of these studies have been unanimously positive, showing encouraging growth of new hair and thickening of hair already present.
As can be seen from highlights from the research in the table below, patient satisfaction with PRP treatment was high, new hair growth was common and hair quality and thickness improved.
Table 1. Recent research on platelet-rich plasma (PRP) treatment for hair loss.
| PRP Research | Findings |
| --- | --- |
| Gentile 20151 | "96% of the patients in the PRP group had regrowth of fully pigmented hair" |
| Khatu 20142 | "significant reduction in hair loss", "..patient satisfaction was high" |
| Schiavone 20143 | "Improvement.. observed in 62/64 patients." |
| V. Cervelli 20144 | "increase of the hair count and density" |
| Kang 20145 | "PRP preparations has a positive.. effect on male and female pattern hair loss" |
| Gkini 20146 | "85% of patients reported an improvement in hair quality and thickness" |
What Is Platelet-Rich Plasma (PRP)?
PRP is a treatment which utilizes the platelets present in a person's own blood to induce mending and repair of tissue. This treatment has been used effectively for a number of conditions including tennis elbow, Achilles tendonitis, plantar fasciitis, osteoarthritis and hair loss. PRP is harvested by collecting and centrifuging a person's blood. The platelet-rich component of the plasma layer is utilized for treatment with PRP.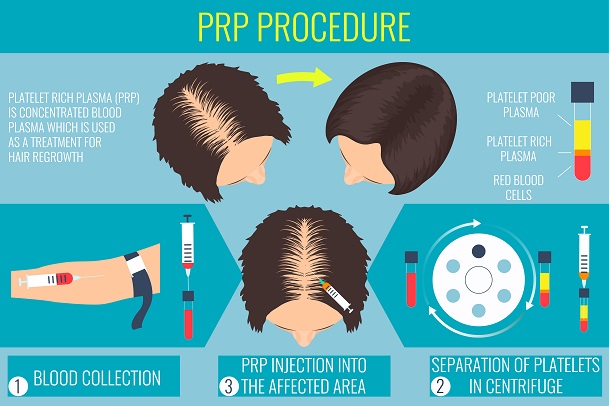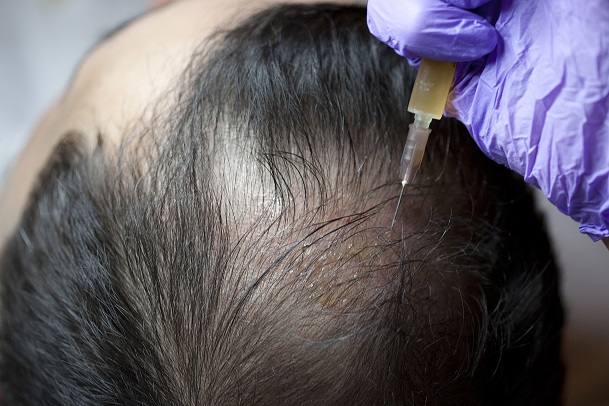 Safety
The safety of PRP treatment is excellent as it uses simply a component of a person's own blood.
Gentile P, Garcovich S, Bielli A, Scioli MG, Orlandi A, Cervelli V. The Effect of Platelet-Rich Plasma in Hair Regrowth: A Randomized Placebo-Controlled Trial. Stem Cells Transl Med. 2015 Nov;4(11):1317-23.
Khatu SS, More YE, Gokhale NR, Chavhan DC, Bendsure N. Platelet-rich plasma in androgenic alopecia: myth or an effective tool. J Cutan Aesthet Surg. 2014 Apr;7(2):107-10.
Schiavone G, Raskovic D, Greco J, Abeni D. Platelet-rich plasma for androgenetic alopecia: a pilot study. Dermatol Surg. 2014 Sep;40(9):1010-9.
Cervelli V, Garcovich S, Bielli A, Cervelli G, Curcio BC, Scioli MG, Orlandi A, Gentile P. The effect of autologous activated platelet rich plasma (AA-PRP) injection on pattern hair loss: clinical and histomorphometric evaluation. Biomed Res Int. 2014;2014:760709.
Kang JS, Zheng Z, Choi MJ, Lee SH, Kim DY, Cho SB. The effect of CD34+ cell-containing autologous platelet-rich plasma injection on pattern hair loss: a preliminary study. J Eur Acad Dermatol Venereol. 2014 Jan;28(1):72-9.
Gkini MA, Kouskoukis AE, Tripsianis G, Rigopoulos D, Kouskoukis K. Study of platelet-rich plasma injections in the treatment of androgenetic alopecia through an one-year period. J Cutan Aesthet Surg. 2014 Oct-Dec;7(4):213-9.

Naturopathic Doctor
at
MacLeod Naturopathic
Dr. Colin is a naturopathic doctor practicing in Upper Tantallon in the Halifax Area. He was born and raised in rural Cape Breton, Nova Scotia and always knew he would return to Nova Scotia after finishing his naturopathic education in Toronto. His clinical focuses include pain, athletic performance and digestive issues. He utilizes platelet-rich plasma, neural prolotherapy, prolozone and acupuncture to help alleviate his patients' pain.

Latest posts by Dr. Colin MacLeod ND (see all)