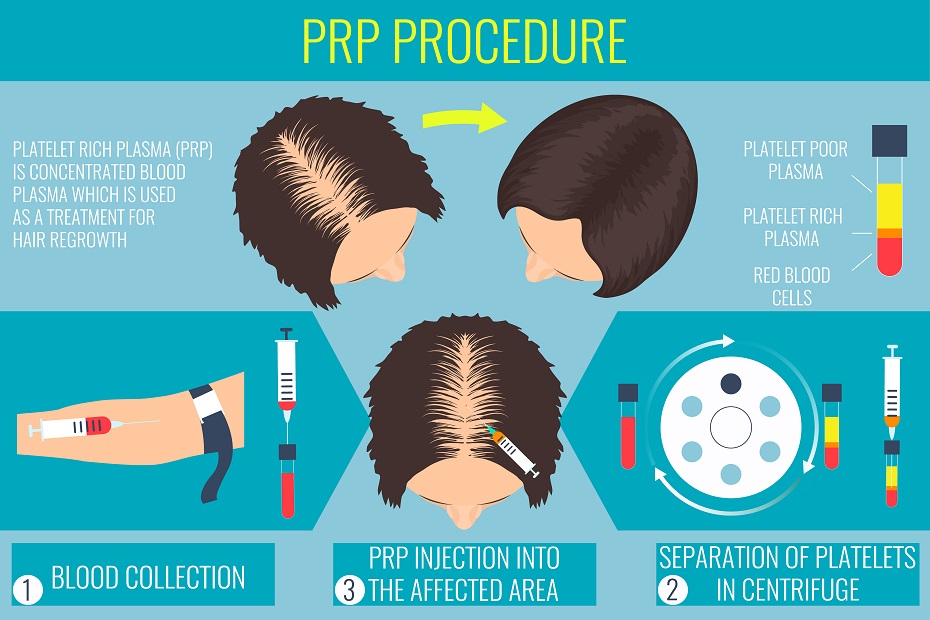 Hair loss is a condition which affects many people and unfortunately few effective treatments exist. Platelet-rich plasma (PRP) injections are a relatively new, non-invasive treatment which involves using a person's own blood plasma to stimulate hair growth. This treatment consists of a series of injections of concentrated platelets collected from a person's own blood.
Effectiveness Of Platelet-Rich Plasma For Hair Growth
Over the past decade thirteen clinical studies have used PRP for the treatment of male and female-pattern hair loss. The results of these studies have been positive, showing encouraging growth of new hair and thickening of hair already present1-3,5-13. Only one of these thirteen studies found that PRP was not an effective means of encouraging new hair growth or increasing hair density4. As can be seen from highlights from the research in the table below, patient satisfaction with PRP treatment is high, new hair growth was seen and hair quality and thickness improved.
Table 1. Summary of research: platelet-rich plasma (PRP) treatment for hair loss.
| PRP Research | Effective Treatment? | Findings |
| --- | --- | --- |
| Anitua 20171 | ✓ | "Patients declared an overall positive satisfaction, and a high clinical improvement score was achieved" |
| Gentile 20172 | ✓ | "three months post-treatment, showed a clinical improvement in the number of hairs in the target area... and in total hair density" |
| El Taieb 20173 | ✓ | "platelets rich plasma is more effective in the treatment of alopecia areata than topical minoxidil 5%" |
| Puig 20164 | X | "Hair mass index or hair count did not statistically significantly differ between the study and placebo groups" |
| Garg 20165 | ✓ | "In PRP group, all [twenty] subjects had [greater than] 75% hair regrowth at 6 months" |
| Alves 20166 | ✓ | "Six months after the first treatment with PRP, significant differences were seen in... hair density... and terminal hair density... when compared with baseline" |
| James 20167 | ✓ | "Three months after the treatment, the patients presented clinical improvement in the hair counts, hair thickness, hair root strength and overall alopecia." |
| Gentile 20158 | ✓ | "96% of the patients in the PRP group had regrowth of fully pigmented hair" |
| Khatu 20149 | ✓ | "significant reduction in hair loss", "..patient satisfaction was high" |
| Schiavone 201410 | ✓ | "Improvement.. observed in 62/64 patients." |
| Cervelli 201411 | ✓ | "increase of the hair count and density" |
| Kang 201412 | ✓ | "PRP preparations has a positive.. effect on male and female pattern hair loss" |
| Gkini 201413 | ✓ | "85% of patients reported an improvement in hair quality and thickness" |
What Is Platelet-Rich Plasma?
PRP is a treatment which utilizes the platelets present in a person's own blood to induce regeneration of tissue. This treatment has been used for effectively treating a number of conditions including tennis elbow, plantar fasciitis, osteoarthritis and hair loss. PRP is harvested by collecting and centrifuging a person's blood. The platelet-rich component of the plasma is utilized for treatment with PRP.
Why Platelets?
Platelets are rich in growth factors, including platelet derived growth factor (PDGF), vascular endothelial growth factor (VEGF), transforming growth factor beta (TGF‐β), epithelial growth factor (EGF) and fibroblast growth factor (FGF). These growth factors stimulate hair growth and scalp tissue regeneration.
How Long Does A Treatment Take?
A single treatment session will take 1 hour from start to finish. A minimal amount of this time consists of injections being given while most of this time is taken up by collecting and preparing the PRP for injection.
How Many Treatments Will I need?
For mild cases of hair loss one to two treatments likely will suffice. Three to four treatments may be required to achieve maximal hair restoration. Treatments are ideally performed once every two to three weeks.
Does New Hair From PRP Treatment Last?
Yes. Research has shown that PRP hair growth treatments lead to long‐term new hair growth. The effect of the PRP hair treatment does begin to "wear off" within 18‐24 months but the hair loss is gradual. Additional "maintenance" treatments to prevent hair loss may be needed every 8‐12 months thereafter, depending on age and amount of hair loss.
Does PRP Have To Be Injected?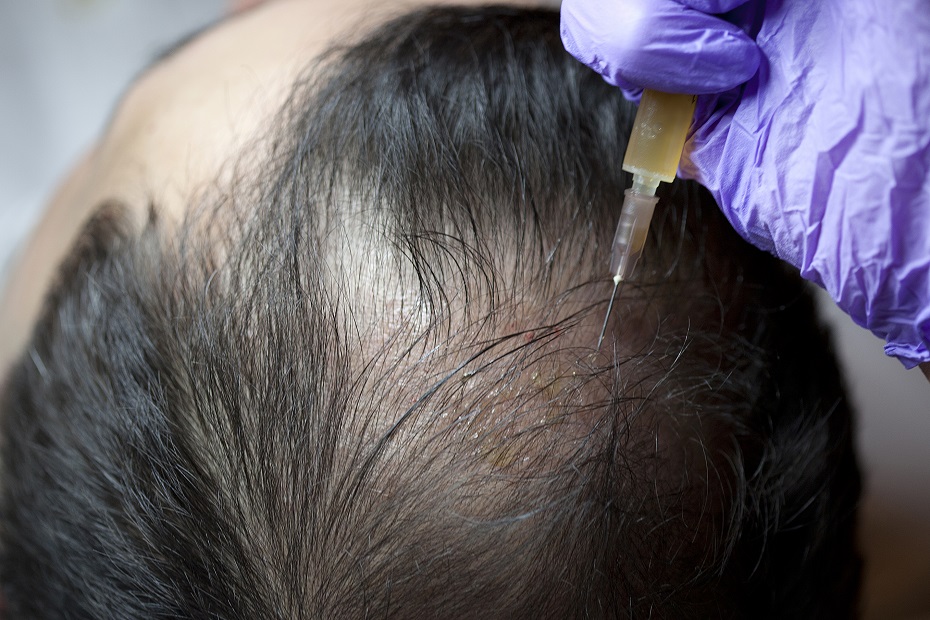 Yes. The rich concentration of growth factors stimulates hair follicles to increase hair thickness and grow new hair. Research has shown excellent results when PRP is injected shallowly into the skin on the scalp, activating the hair follicles within the skin. Research on topical application of PRP has not shown any increase in hair thickness or potential for new hair growth.
Do PRP Injections Hurt?
Not much. The use of very fine needles and local anesthetic limit the discomfort of PRP injections on the scalp to a very minimal amount. There may be mild discomfort in the scalp for 24 hours following injection.
Do I Need To Prepare for My PRP Treatment?
Yes. You should avoid eating for at least 4 hours prior to your PRP treatment. This will help to keep your blood clear of excessive fat particles which tend to increase in the blood after a meal. Also you should wash your hair prior to treatment.
Safety of PRP
The research on PRP treatment has shown excellent safety. PRP is collected from a person's own blood and for this reason the risk of transmissible diseases is nil when sterile technique is used.
Who Shouldn't Have PRP Treatments?
People with active cancer, infection, a bleeding disorder or pregnant women should not be treated with PRP. You will need to let us know if you are taking a blood thinning medication. Scar‐induced hair loss is not expected to respond to PRP treatment.
Anitua E, Pino A, Martinez N, Orive G, Berridi D. Dermatol Surg. 2017 Feb 17. The Effect of Plasma Rich in Growth Factors on Pattern Hair Loss: A Pilot Study.
Gentile P Cole JP, Cole MA, Garcovich S, Bielli A, Scioli MG, Orlandi A, Insalaco C Cervelli V. Evaluation of Not-Activated and Activated PRP in Hair Loss Treatment: Role of Growth Factor and Cytokine Concentrations Obtained by Different Collection Systems. Int J Mol Sci. 2017 Feb 14;18(2).
El Taieb MA, Ibrahim H, Nada EA, Seif Al-Din M. Platelets rich plasma versus minoxidil 5% in treatment of alopecia areata: A trichoscopic evaluation. Dermatol Ther. 2017 Jan;30(1).
Puig CJ, Reese R, Peters M. Double-Blind, Placebo-Controlled Pilot Study on the Use of Platelet-Rich Plasma in Women With Female Androgenetic Alopecia. Dermatol Surg. 2016 Nov;42(11):1243-1247.
Garg S. Outcome of Intra-operative Injected Platelet-rich Plasma Therapy During Follicular Unit Extraction Hair Transplant: A Prospective Randomised Study in Forty Patients. J Cutan Aesthet Surg. 2016 Jul-Sep;9(3):157-164.
Alves R, Grimalt R. Randomized Placebo-Controlled, Double-Blind, Half-Head Study to Assess the Efficacy of Platelet-Rich Plasma on the Treatment of Androgenetic Alopecia. Dermatol Surg. 2016 Apr;42(4):491-7.
James R, Chetry R, Subramanian V, Ashtekar A, Srikruthi N, Ramachandran S, Koka PS, Deb K. Efficacy of Activated 3X Platelet-Rich Plasma in the Treatment of Androgenic Alopecia. J Stem Cells. 2016;11(4):191-199.
Gentile P, Garcovich S, Bielli A, Scioli MG, Orlandi A, Cervelli V. The Effect of Platelet-Rich Plasma in Hair Regrowth: A Randomized Placebo-Controlled Trial. Stem Cells Transl Med. 2015 Nov;4(11):1317-23.
Khatu SS, More YE, Gokhale NR, Chavhan DC, Bendsure N. Platelet-rich plasma in androgenic alopecia: myth or an effective tool. J Cutan Aesthet Surg. 2014 Apr;7(2):107-10.
Schiavone G, Raskovic D, Greco J, Abeni D. Platelet-rich plasma for androgenetic alopecia: a pilot study. Dermatol Surg. 2014 Sep;40(9):1010-9.
Cervelli V, Garcovich S, Bielli A, Cervelli G, Curcio BC, Scioli MG, Orlandi A, Gentile P. The effect of autologous activated platelet rich plasma (AA-PRP) injection on pattern hair loss: clinical and histomorphometric evaluation. Biomed Res Int. 2014;2014:760709.
Kang JS, Zheng Z, Choi MJ, Lee SH, Kim DY, Cho SB. The effect of CD34+ cell-containing autologous platelet-rich plasma injection on pattern hair loss: a preliminary study. J Eur Acad Dermatol Venereol. 2014 Jan;28(1):72-9.
Gkini MA, Kouskoukis AE, Tripsianis G, Rigopoulos D, Kouskoukis K. Study of platelet-rich plasma injections in the treatment of androgenetic alopecia through an one-year period. J Cutan Aesthet Surg. 2014 Oct-Dec;7(4):213-9.