Fruit and vegetable intake is one of the most important factors in a healthy diet. Eating a good amount of varied fruit and vegetables will help you to feel your best and keep you healthy. Here are 5 ways to help get in your 5-10 servings per day.
Smoothies pack a punch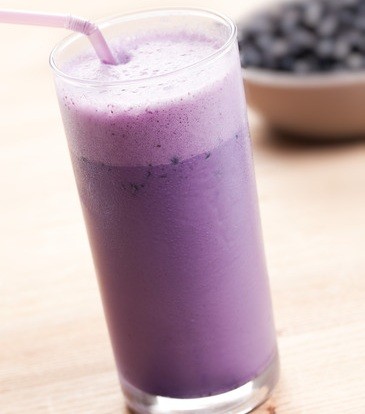 1

Smoothies are a delicious, fun and speedy way to get in some extra fruit. A simple and classic smoothie recipe of 1 banana, 1/3 cup frozen blueberries and 1/3 cup almond milk or fruit juice blended is a cool treat any time of year. A scoop of soy, rice or whey protein powder is a good way to turn your smoothie in to a nicely balanced breakfast.
The next time you are making up your favourite breakfast smoothie add 2 handfuls of baby spinach. The taste of the smoothie won't change much but the colour will turn a few shades green. Spinach is packed with nutrients, including Vitamin A, iron and calcium and is high in fibre.
Experiment with adding mango, avocado, strawberries, pear and even kale for some tasty variety.
Add vegetables and/or fruit to breakfast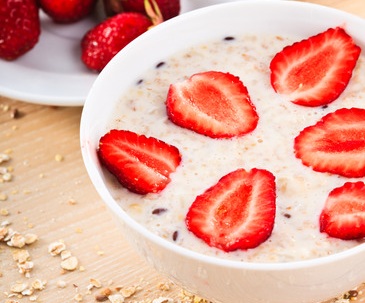 2

Add broccoli, green pepper and mushrooms to your omelette. Add blueberries to your cereal and banana slices to your oatmeal. This extra step in food preparation will only take you 1-3 minutes but the healthy boost will last all day and much longer.
Munch on an apple, peach, pear or plum to wrap up an already healthy breakfast. The extra fibre will help to keep you regular and to balance blood sugar.
1/2 glass of a fruit/veggie smoothie is a great way to finish off breakfast and boost fruit and vegetable intake.
Snacks are your friend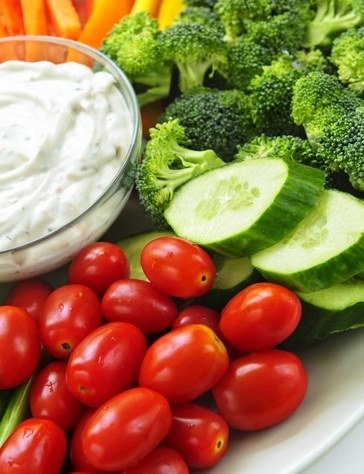 3

Unfortunately snacking has a bit of a bad rap. Snacks of fresh fruit or vegetables are a great way to boost your intake of these nutritious foods.
Hummus is a healthy source of protein which tastes great as a dip with veggies. A bag of sliced red pepper, broccoli, carrot sticks and celery sticks with hummus is a great snack for anybody at home or on the move.
Keep a fully stocked fruit bowl at home and keep a few pieces of fruit at work. An apple, plum or pear as a 10:30am snack is a great way to tide you over until lunch and a good boost to fruit intake.
Frozen fruit is a definite step above popsicles or ice cream as a summer cool down snack. Fruits that work well include frozen grapes, peach slices, mangoes, raspberries, blueberries and strawberries.
Sneak in some veggies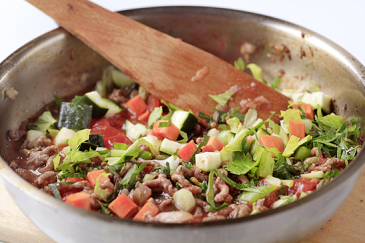 4

Turkey, chicken or beef burgers are a great way to sneak extra veggies into your diet. Vegetables which work especially well chopped or minced and added to burgers include onions, chives, mushrooms, red/yellow peppers and parsley.
Pasta sauce is another great vehicle to carry "hidden" veggies. Vegetables which work great added to pasta sauce include mushrooms, onions, green/red peppers, zucchini, garlic, broccoli and parsley, among others.
Don't skip the salads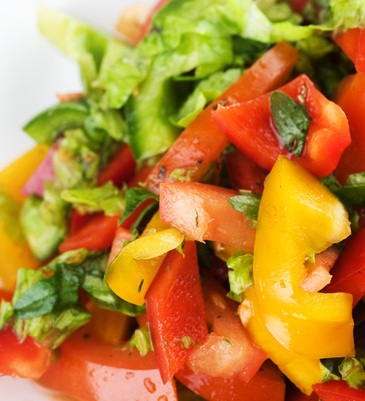 5

Salads are one of my favourite ways to increase fruit and vegetable intake. The most important thing is to keep it simple! If you don't eat much salad already than try this very simple one: 2 handfuls of baby spinach and 4-5 sliced strawberries with balsamic vinegar and olive oil.
A mixture of cold pressed extra virgin olive oil and balsamic vinegar is the ideal dressing for salads. The magic ratio of olive oil to vinegar is 3:1 to achieve the optimal sweetness and tartness. Olive oil is great for the heart and balsamic vinegar can help control blood sugar.
Blueberries, mango, sliced pear, sliced almonds, romaine lettuce, red leaf lettuce and arugula should be cycled in or combined to add variety.

Latest posts by Dr. Colin MacLeod ND
(see all)