Prolotherapy For Arthritis
Prolotherapy is an injection of a concentrated dextrose solution which triggers a regenerative response at the site of degeneration or injury.
Pain Relief
Sixteen studies have investigated prolotherapy for osteoarthritis. Fifteen of these 16 studies concluded that prolotherapy helped people suffering from osteoarthritis to significantly reduce their pain, stiffness and and improve their range of motion1-16
High Success Rate
The majority of people with osteoarthritis who receive prolotherapy see improvement. The research has shown success rates at or near 80%1,9. We have seen rates of success at 80-85%.
Lasting Results
The improvements achieved with prolotherapy are typically long lasting. In the longest of all of the studies on prolotherapy, which lasted 2.5 years, the improvement in pain progressively improved up until the end of the study9.
Prolotherapy
Regenerative injection treatment
Getting Started With Prolotherapy
To ensure that prolotherapy will be a safe and effective treatment for you an initial naturopathic consultation is required prior to starting treatment. The initial prolotherapy treatment is offered at a lesser cost if it is on the same day as the initial consultation.
Initial consultation: $180
Subsequent prolotherapy treatment: $150
Initial consultation with prolotherapy treatment: $230 ($100 savings)
Conditions Treated By Prolotherapy
Prolotherapy helps arthritis and many other painful conditions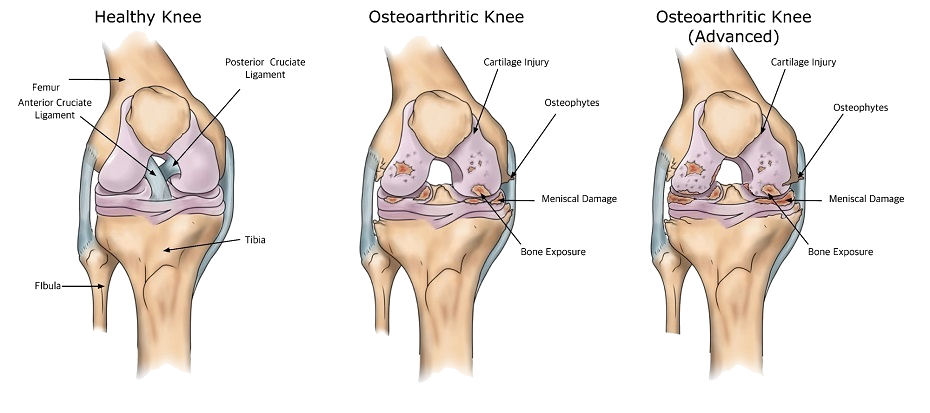 Evidence has shown that prolotherapy is an effective treatment for many painful conditions including osteoarthritis17, chondromalacia18, low back pain19, sacroiliac pain20, tennis elbow21, ligament injuries22, rotator cuff tendinitis23, Achilles tendinitis24, whiplash25 and Osgood–Schlatter disease26. In my experience prolotherapy can significantly improve the pain, stiffness and poor range of motion associated with osteoarthritis.
How Does Prolotherapy Work?
When the concentrated dextrose solution used in prolotherapy is injected, the local cells responds by releasing a burst of growth factors27-30. This response from our cells is rapid, with growth factor production rising within minutes to hours of cells being exposed to a concentrated dextrose solution31. This surge in local growth factor production is believed to be the cause of the improvement seen in osteoarthritic joints, as well as in other painful, degenerative conditions.
Growth Factors Promote Repair
The main "repair factors" naturally present within joint cartilage, bone and synovial fluid are insulin-like growth factor (IGF), transforming growth factor beta (TGF-β), epidermal growth factor (EGF), basic fibroblast growth factor (bFGF), and platelet derived growth factor (PDGF). These growth factors encourage the repair process within the joint and surrounding bone32,33.
Conversely, interleukin-1 (IL-1) and tumor necrosis factor (TNF) are considered "disrepair factors" within the joint cartilage, bone and synovial fluid. These disrepair factors lead to the breakdown of tissue and limit the effects of the repairing growth factors. IL-1 and TNF have been shown to increase collagenase (which breaks down cartilage) as much as 110-fold and cause a rise in binding proteins (proteins that bind to and inhibit growth factors) in synovial fluid by as much as 24-fold34-38. Thankfully, research has shown that dextrose has a down-regulating effect on IL-1 and collagenase39.
Animal and in vitro studies have investigated the effects of growth factors on the health of joint cartilage and bone. These studies have found that elevated levels of growth factors within a joint led to chondrogenesis (formation of cartilage cells)40, thickening of cartilage41 and even repair of full thickness cartilage defects42.
How Long Do Results Last?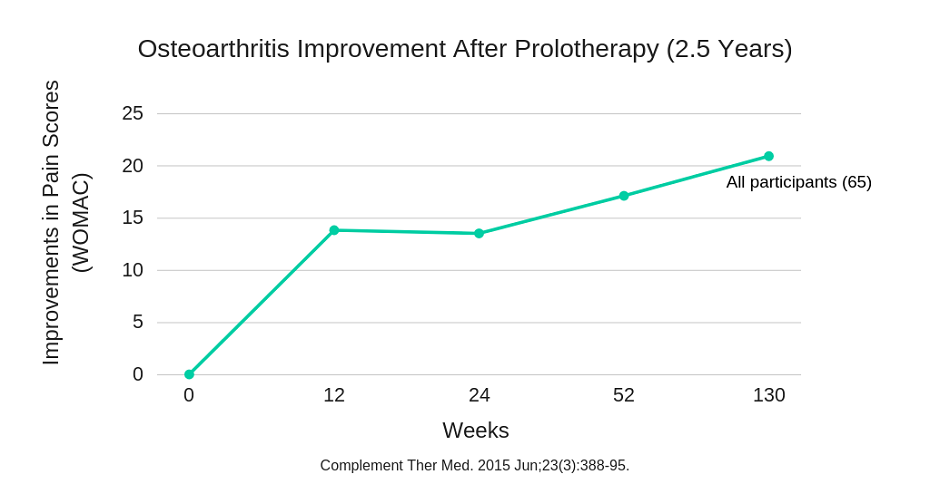 The improvements achieved with prolotherapy are typically long lasting. In the longest of all of the studies on prolotherapy, which lasted 2.5 years, the improvement in pain progressively improved up until the end of the study.
The authors of this study stated that "prolotherapy resulted in safe, significant, progressive improvement of knee pain, function and stiffness scores among most participants through a mean follow-up of 2.5 years and may be an appropriate therapy for patients with knee [osteoarthritis] refractory to other conservative care."9 In this study improvement increased most rapidly within 10 weeks of the first treatment. Following this initial improvement, a continual progressive improvement was seen up until the end of the study, 2.5 years later.
Prolotherapy Vs. Hyaluronic Acid & Cortisone
Hyaluronic acid is another medicine which can be injected into an arthritic joint to help treat the associated pain and disability. Hyaluronic acid is a natural component of our skin, eyes and joints. It is an important component of healthy and strong cartilage. For these reasons, hyaluronic acid has been studied and is used clinically as an intra-articular injection for osteoarthritis.
Three studies have compared the effectiveness of prolotherapy and hyaluronic acid injections for osteoarthritic joints. All three of these studies found that prolotherapy was a superior treatment for the management of pain and disability associated with an arthritic joint12-14.
One study has investigated the effectiveness of prolotherapy compared to an intra-articular injection of a corticosteroid (cortisone) and found both treatments to be effective in the short term but that prolotherapy yielded superior results over the long term (6 months)8.
Safety Of Prolotherapy
Prolotherapy is a very safe treatment. The most common issue that can occur is mild discomfort in the joint for 1-7 days after injection. In my clinical experience, discomfort lasts for 24 hours in the vast majority of cases. As with any injection there is a small chance of infection. There is also a small chance of allergic reaction to the local anesthetic (numbing agent) which is used at the site of the injection.
Frequently Asked Questions
There can be some discomfort associated with prolotherapy but it is typically short-lived. The needle size used in a prolotherapy treatment is smaller than a needle that is used for drawing blood or for giving a cortisone injection. Additionally, a local anesthetic agent is incorporated into the prolotherapy treatment in order to minimize any discomfort experienced.
Six treatment sessions at a rate of one injection every 1-2 weeks yields optimal results for osteoarthritis. If there is pain in the region of ligaments or tendons surrounding the joint these can also be treated effectively with prolotherapy.
After a prolotherapy treatment it is best to limit exercise to less intense activities for 1-2 days to allow the treated region to complete the repair process unhindered.
You may not be a candidate for prolotherapy if you are pregnant, have had a knee replacement, or have post-infectious arthritis.
Yes. The amount of sugar present in a prolotherapy injection, 1-2 grams, is very small compared to the amount in many sweet foods. For example, an apple has 19g, a Snickers bar has 22g and a 12-oz glass of orange juice has 33g of sugar.
References
Reeves KD, Hassanein K. Randomized prospective double-blind placebo-controlled study of dextrose prolotherapy for knee osteoarthritis with or without ACL laxity. Altern Ther Health Med. 2000 Mar;6(2):68-74, 77-80.
Reeves KD, Hassanein K. Randomized, prospective, placebo-controlled double-blind study of dextrose prolotherapy for osteoarthritic thumb and finger (DIP, PIP, and trapeziometacarpal) joints: evidence of clinical efficacy. J Altern Complement Med. 2000 Aug;6(4):311-20.
Rabago D, Zgierska A, Fortney L, Kijowski R, Mundt M, Ryan M, Grettie J, Patterson JJ. Hypertonic dextrose injections (prolotherapy) for knee osteoarthritis: results of a single-arm uncontrolled study with 1-year follow-up. J Altern Complement Med. 2012 Apr;18(4):408-14.
Dumais R, Benoit C, Dumais A, Babin L, Bordage R, de Arcos C, Allard J, Bélanger M. Effect of regenerative injection therapy on function and pain in patients with knee osteoarthritis: a randomized crossover study. Pain Med. 2012 Aug;13(8):990-9.
Rabago D, Patterson JJ, Mundt M, Kijowski R, Grettie J, Segal NA, Zgierska A. Dextrose prolotherapy for knee osteoarthritis: a randomized controlled trial. Ann Fam Med. 2013 May-Jun;11(3):229-37.
Rabago D, Patterson JJ, Mundt M, Zgierska A, Fortney L, Grettie J, Kijowski R. Dextrose and morrhuate sodium injections (prolotherapy) for knee osteoarthritis: a prospective open-label trial. J Altern Complement Med. 2014 May;20(5):383-91.
Hauser RA, Sprague IS. Outcomes of prolotherapy in chondromalacia patella patients: improvements in pain level and function. Clin Med Insights Arthritis Musculoskelet Disord. 2014 Feb 17;7:13-20.
Jahangiri A, Moghaddam FR, Najafi S. Hypertonic dextrose versus corticosteroid local injection for the treatment of osteoarthritis in the first carpometacarpal joint: a double-blind randomized clinical trial. J Orthop Sci. 2014 Sep;19(5):737-43.
Rabago D, Mundt M, Zgierska A, Grettie J. Hypertonic dextrose injection (prolotherapy) for knee osteoarthritis: Long term outcomes. Complement Ther Med. 2015 Jun;23(3):388-95.
Rahimzadeh P, Imani F, Faiz SHR, Entezary SR, Zamanabadi MN, Alebouyeh MR. The effects of injecting intra-articular platelet-rich plasma or prolotherapy on pain score and function in knee osteoarthritis. Clin Interv Aging. 2018 Jan 4;13:73-79.
Hsieh RL, Lee WC. Effects of Intra-articular Coinjections of Hyaluronic Acid and Hypertonic Dextrose on Knee Osteoarthritis: A Prospective, Randomized, Double-Blind Trial. Arch Phys Med Rehabil. 2022 Aug;103(8):1505-1514.
Waluyo Y, Budu, Bukhari A, et al. Changes in levels of cartilage oligomeric proteinase and urinary C-terminal telopeptide of type II collagen in subjects with knee osteoarthritis after dextrose prolotherapy: A randomized controlled trial. J Rehabil Med. 2021 May 24;53(5):jrm00196.
Rezasoltani Z, Azizi S, Najafi S, et al. Physical therapy, intra-articular dextrose prolotherapy, botulinum neurotoxin, and hyaluronic acid for knee osteoarthritis: randomized clinical trial. Int J Rehabil Res. 2020 Sep;43(3):219-227.
Sit RWS, Wu RWK, Rabago D, et al. Efficacy of Intra-Articular Hypertonic Dextrose (Prolotherapy) for Knee Osteoarthritis: A Randomized Controlled Trial. Ann Fam Med. 2020 May;18(3):235-242.
Sert AT, Sen EI, Esmaeilzadeh S, et al. The Effects of Dextrose Prolotherapy in Symptomatic Knee Osteoarthritis: A Randomized Controlled Study. J Altern Complement Med. 2020 May;26(5):409-417.
Pishgahi A, Abolhasan R, Shakouri SK, et al. Effect of Dextrose Prolotherapy, Platelet Rich Plasma and Autologous Conditioned Serum on Knee Osteoarthritis: A Randomized Clinical Trial. Iran J Allergy Asthma Immunol. 2020 Jun 23;19(3):243-252.
Hassan F, Trebinjac S, Murrell WD, Maffulli N. The effectiveness of prolotherapy in treating knee osteoarthritis in adults: a systematic review. Br Med Bull. 2017 Jun 1;122(1):91-108.
Hauser RA, Sprague IS. Outcomes of prolotherapy in chondromalacia patella patients: improvements in pain level and function. Clin Med Insights Arthritis Musculoskelet Disord. 2014 Feb 17;7:13-20.
Yelland MJ, Glasziou PP, Bogduk N, Schluter PJ, McKernon M. Prolotherapy injections, saline injections, and exercises for chronic low-back pain: a randomized trial. Spine (Phila Pa 1976). 2004 Jan 1;29(1):9-16; discussion 16.
Kim WM, Lee HG, Jeong CW, Kim CM, Yoon MH. A randomized controlled trial of intra-articular prolotherapy versus steroid injection for sacroiliac joint pain. J Altern Complement Med. 2010 Dec;16(12):1285-90.
Rabago D, Lee KS, Ryan M, Chourasia AO, Sesto ME, Zgierska A, Kijowski R, Grettie J, Wilson J, Miller D. Hypertonic dextrose and morrhuate sodium injections (prolotherapy) for lateral epicondylosis (tennis elbow): results of a single-blind, pilot-level, randomized controlled trial. Am J Phys Med Rehabil. 2013 Jul;92(7):587-96.
Reeves KD, Hassanein KM. Long-term effects of dextrose prolotherapy for anterior cruciate ligament laxity. Altern Ther Health Med. 2003 May-Jun;9(3):58-62.
Seven MM, Ersen O, Akpancar S, Ozkan H, Turkkan S, Yildiz Y, Koca K. Effectiveness of prolotherapy in the treatment of chronic rotator cuff lesions. Orthop Traumatol Surg Res. 2017 May;103(3):427-433.
Yelland MJ, Sweeting KR, Lyftogt JA, Ng SK, Scuffham PA, Evans KA. Prolotherapy injections and eccentric loading exercises for painful Achilles tendinosis: a randomised trial. Br J Sports Med. 2011 Apr;45(5):421-8.
Hooper RA, Frizzell JB, Faris P. Case series on chronic whiplash related neck pain treated with intraarticular zygapophysial joint regeneration injection therapy. Pain Physician. 2007 Mar;10(2):313-8.
Topol GA, Podesta LA, Reeves KD, Raya MF, Fullerton BD, Yeh HW. Hyperosmolar dextrose injection for recalcitrant Osgood-Schlatter disease. Pediatrics. 2011 Nov;128(5):e1121-8.
Di Paolo S, Gesualdo L, Ranieri E, Grandaliano G, Schena FP. High glucose concentration induces the overexpression of transforming growth factor-beta through the activation of a platelet-derived growth factor loop in human mesangial cells. Am J Pathol. 1996 Dec;149(6):2095-106.
Murphy M, Godson C, Cannon S, Kato S, Mackenzie HS, Martin F, Brady HR. Suppression subtractive hybridization identifies high glucose levels as a stimulus for expression of connective tissue growth factor and other genes in human mesangial cells. J Biol Chem. 1999 Feb 26;274(9):5830-4.
Ohgi S, Johnson PW. Glucose modulates growth of gingival fibroblasts and periodontal ligament cells: correlation with expression of basic fibroblast growth factor. J Periodontal Res. 1996 Nov;31(8):579-88.
Reinhold D, Ansorge S, Schleicher ED. Elevated glucose levels stimulate transforming growth factor-beta 1 (TGF-beta 1), suppress interleukin IL-2, IL-6 and IL-10 production and DNA synthesis in peripheral blood mononuclear cells. Horm Metab Res. 1996 Jun;28(6):267-70.
Oh JH, Ha H, Yu MR, Lee HB. Sequential effects of high glucose on mesangial cell transforming growth factor-beta 1 and fibronectin synthesis. Kidney Int. 1998 Dec;54(6):1872-8.
Brandt KD. Osteoarthritis. In: Fauci AS, Braunwald E, Isselbacher KJ, et al, eds. Harrison's Principles of Internal Medicine. 14th ed. New York, NY: McGraw Hill; 1998: 1936-1937.
Hough Jr AJ. Pathology of osteoarthritis. In: McCarty DJ, Koopman WJ, eds. A Textbook of Rheumatology. 12th ed. Philadelphia, Pa: Lea and Febiger; 1993; 1709-1721.
Castor CW, Smith EM, Bignall MC, Hossler PA. Connective tissue activation. XXXVII.Effects of cytokine combinations, implications for an integrated cytokine network. J Rheumatol (Canada). 1997; 24(11): 2080-9.
Dequeker J, Mokassa L, Aerssens J, Boonen S. Bone density and local growth factors in generalized osteoarthritis. Microsc Res Tech. 1997 May 15;37(4):358-71.
Hilal G, Martel-Pelletier J, Pelletier JP, Ranger P, Lajeunesse D. Osteoblast-like cells from human subchondral osteoarthritic bone demonstrate an altered phenotype in vitro: possible role in subchondral bone sclerosis. Arthritis Rheum. 1998 May;41(5):891-9.
Olney RC, Tsuchiya K, Wilson DM, Mohtai M, Maloney WJ, Schurman DJ, Smith RL. Chondrocytes from osteoarthritic cartilage have increased expression of insulin-like growth factor I (IGF-I) and IGF-binding protein-3 (IGFBP-3) and -5, but not IGF-II or IGFBP-4. J Clin Endocrinol Metab. 1996 Mar;81(3):1096-103.
Tsuchiya K, Maloney WJ, Vu T, Hoffman AR, Huie P, Sibley R, Schurman DJ, Smith RL. Osteoarthritis: differential expression of matrix metalloproteinase-9 mRNA in nonfibrillated and fibrillated cartilage. J Orthop Res. 1997 Jan;15(1):94-100.
Wu TJ, Lin CY, Tsai CH, Huang YL, Tang CH. Glucose suppresses IL-1β-induced MMP-1 expression through the FAK, MEK, ERK, and AP-1 signaling pathways. Environ Toxicol. 2018 Oct;33(10):1061-1068.
van Beuningen HM1, Glansbeek HL, van der Kraan PM, van den Berg WB. Differential effects of local application of BMP-2 or TGF-beta 1 on both articular cartilage composition and osteophyte formation. Osteoarthritis Cartilage. 1998 Sep;6(5):306-17.
Shida J, Jingushi S, Izumi T, Iwaki A, Sugioka Y. Basic fibroblast growth factor stimulates articular cartilage enlargement in young rats in vivo. J Orthop Res. 1996 Mar;14(2):265-72.
Wakitani S, Imoto K, Kimura T, Ochi T, Matsumoto K, Nakamura T. Hepatocyte growth factor facilitates cartilage repair. Full thickness articular cartilage defect studied in rabbit knees. Acta Orthop Scand. 1997 Oct;68(5):474-80.