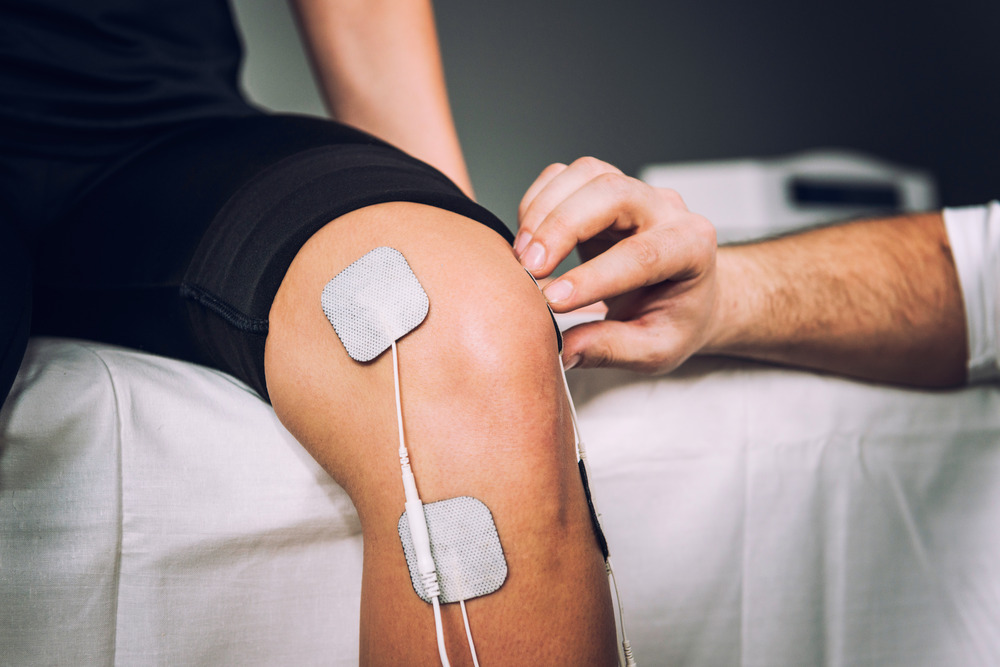 What Is Microcurrent Therapy?
Microcurrent therapy is a treatment that applies electricity to affected areas of the body at a low amplitude (microamps) rather than the more commonly used high amplitude (milliamps) treatments.
While transcutaneous electrical nerve stimulation (TENS) applies short bursts of electricity at a high amplitude, microcurrent treatment opts for longer bursts of low amplitude electricity. A microcurrent device uses an electric current with an amplitude that is 1,000 times lower than that of TENS. The total electrical current (volume of electrons) being administered per second of treatment is similar in milliamp and microamp devices because of the longer bursts of electricity of microcurrent devices.
How Does Microcurrent Therapy Work?
Microcurrents employ electricity at a low amplitude and frequencies of 0.5-10Hz. These frequency and amplitude combinations are closely in line with the electrical activity of the cells of the body. Microcurrent therapy helps to heal wounds, repair injuries, improve surgery recovery, improve energy and pain in fibromyalgia, improve the pain associated with arthritis and other painful conditions. Research has also shown that microcurrent treatment can help prevent muscle loss and preserve muscle function.
Microcurrent For Skin Conditions
Microcurrent therapy has been found to be helpful in healing many skin conditions including improving healing of wounds caused by acne1, pressure ulcers2-4, diabetic ulcers5-7, burns8 and several other skin conditions9-14. One study found that microcurrent treatment was not effective for healing time in patients with skin burns that had skin donor sites15.
Microcurrent For Pain
Microcurrent treatment has been studied for a range of painful conditions. Tension headache16, acute knee pain17, osteoarthritis18, temporomandibular joint disorder (TMJ)19-21, tennis elbow22, chronic back pain23 and sinus pain24. One study found that microcurrent treatment was not helpful for pain associated with spinal cord injury25.

Several studies have also found that microcurrent treatment is helpful in treating the pain and poor mobility that can follow joint replacement surgery of the knee26-27 and hip28. Microcurrent also is helpful for recovery after rotator cuff repair surgery29. Lastly, microcurrent is helpful in managing the pain and fatigue associated with fibromyalgia30-31.
Microcurrent For Preserving Muscle
Microcurrent therapy also has the ability to help maintain muscle size, strength and protect against muscle damage32-34. These muscle protecting effects are a key part of why microcurrent is helpful for people recovering from surgery and those in pain as it protects against muscle wasting and muscular damage. Healthy muscle tone is an important part of recovering from painful conditions and surgical procedures.
Will I Feel Anything?
Not much. Microcurrent treatment can be either felt just faintly or not at all. Unlike TENS, there will also be no tensing or spasming of the muscles in the area of treatment.
Is Microcurrent Safe?
Yes, microcurrent has been found to be safe over the course of 50+ peer reviewed studies. Recent review studies have concluded that Microcurrent treatment is safe with adverse effects being quite rare.
In some cases tingling, skin sensitivity or muscle twitching can occur during treatment but this can be managed easily by reducing the treatment intensity. People with epilepsy, certain heart conditions or those with a pacemaker should not use microcurrent therapy. Pregnant women are also not treated with microcurrent treatment out of an abundance of caution.
Microcurrent Therapy in Halifax
If you are interested in receiving microcurrent treatment please contact MacLeod Naturopathic at 902-820-2727 to book an initial naturopathic visit to discuss your options.
References