What Is Methylation?
Methylation is simply the attachment of a methyl group (single carbon, three hydrogen) to another molecule. Although simple, methylation is a critical process for building, maintaining and repairing cells and tissues throughout the body.
Why Is Methylation Important?
Methylation has many important functions within our bodies, including:
turning gene function on and off as needed1
protecting otherwise fragile DNA2,3,4
recycling neurotransmitters, such as serotonin, melatonin and epinephrine
building our basic immune cells, including natural killer cells5
maintaining the protective coating on nerve cells (myelin)6
How Is Methylation Interrupted?
Methylation can be interrupted by a few common issues:
lack of required nutrient cofactors (folate, zinc, vitamin B2, B6, B12, magnesium or cysteine)
environmental toxicity from heavy metals7
certain drugs including alcohol8, nitrous oxide9 and antacids10 (proton pump inhibitors)
genetic mutations/polymorphisms (SNPs) of specific genes (MTHFR, GSTM1, PEMT, MAT, GAMT, CBS)
When Methylation Goes Wrong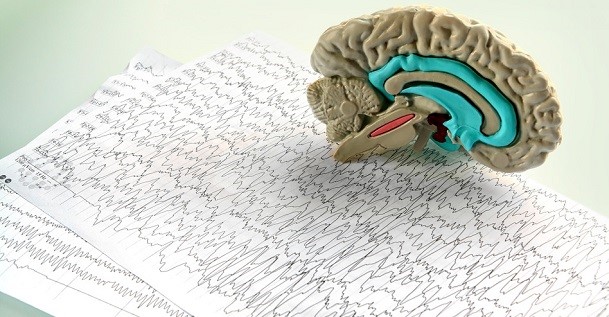 A single nucleotide polymorphism (SNP) of the MTHFR gene is a common cause of methylation issues. People who have MTHFR SNPs are more likely to suffer a number of health conditions, including: autism11, cognitive decline12, depression, bipolar disorder, schizophrenia13, diabetes14,15, down syndrome16,17, essential hypertension18, gastric cancer19, ischemic stroke20, migraine21, neural tube defects22 and smoking addiction23.
As can be seen from the number of body systems affected, methylation is a universal process of regulation. When methylation is not functionally properly many processes within the body can falter, leading to disease.
The MTHFR Gene
The MTHFR gene is responsible for producing the methylene tetrahydrofolate reductase (MTHFR) enzyme. The MTHFR enzyme controls the rate limiting step of the methylation cycle. Methylation throughout the body will be inhibited if the concentration of MTHFR enzyme is below optimal levels.
What Is A Single Nucleotide Polymorphism (SNP)?
A single nucleotide polymorphism (SNP) is a fancy name for an error in DNA copying. This error can lead to downstream negative effects, typically a lower than optimal amount of the protein or enzyme which the affected gene is in control of producing.
MTHFR Problems (SNPs) Are Common
MTHFR SNPs are common throughout the world. A large study of 37,000 people found that 85% of people examined had SNPs affecting their MTHFR gene24. So it is not 1/100 or 1/10 people who have MTHFR SNPS, it is closer to 8/10 or 9/10!
Where Can I Get Tested For Methylation Issues?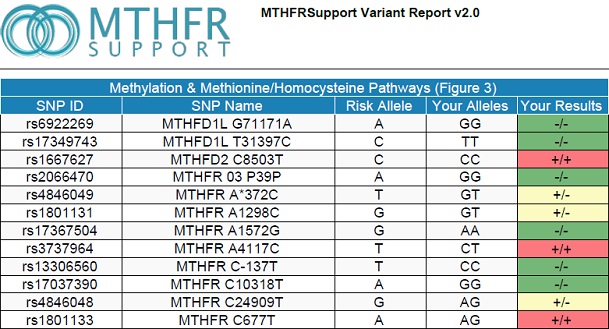 Below is a list of labs which test for MTHFR single nucleotide polymorphisms (SNPs):
Genova Diagnostics
Doctor's Data
Spectracell Laboratories
23andme
The results which come back from a genetic test can be extensive, to say the least. The results help to shed light on problem areas and health risk factors based on the individual's genetic make-up. The data can be difficult to interpret unless the person running the test has a working knowledge of the genes being tested.
Fixing Methylation Problems
Depending on the cause of the methylation issue (lack of cofactors, environmental toxins, genetic polymorphisms, side effects of medications) the best possible treatment may involve providing more substrate (activated methyl folate, methylated vitamin B12, etc.), eliminating environmental toxins and/or making changes to current medications being taken. In some cases an overlapping pathway must be supported in order to optimize methylation.
Further Uses Of Genetic Testing
Although MTHFR gene SNPs (copying errors) are quite common, there are other important genes which can be affected by SNPs too. Genetic testing can also identify SNPs in other genes which can cause problems, such as sluggish liver function or neurotransmitter imbalances.
Methylation Testing In Halifax, Nova Scotia
If you are interested in having genetic testing done and are located in the Halifax area, please contact MacLeod Naturopathic to book an initial naturopathic visit to discuss your options. Dr. MacLeod has completed formal training with Dr. Ben Lynch ND, an expert in the field of methylation.
References